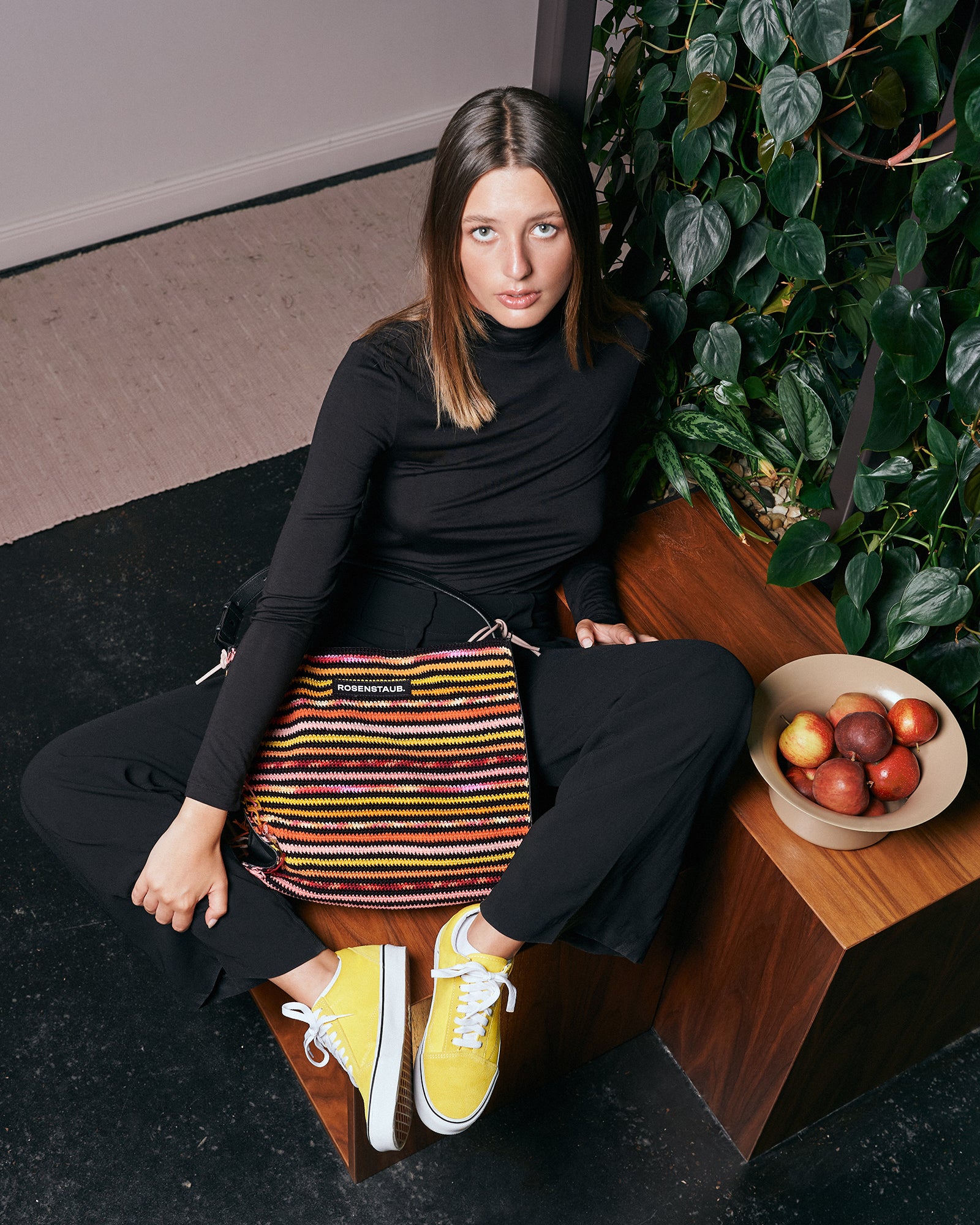 Crochet Shopper - No. 5 of 30
---
Each unique piece was handmade in Italy.
Made of cotton and AppleSkin.
The "Origine" collection is a tribute to the craftsmanship and timeless elegance that goes hand in hand with handmade pieces. With only 30 pieces, each item in this limited collection is unique and individual.
Our atelier in Italy has skillfully combined each handmade crochet element with Apple Skin™, creating 30 unique one-of-a-kind pieces. Apple Skin™ is a leather alternative made from peels and core waste recovered from the food industry. This makes Apple Skin™ a sustainable and environmentally friendly choice that perfectly aligns with the philosophy of the collection.
Shopper No. 5 of 30 consists of the main colors yellow, orange, apricot and red.
The Crochet Shopper "ORIGINE" is a strictly limited bag collection that consists of 30 unique pieces for a lucky few. Origine is Italian and means origin. We chose this title because crochet elements marked the beginning of our brand back in the day. We are now giving a second life to a limited number of these works. Each crochet element was individually made by a talented artisan in many hours of handwork. These works were then completed by our studio in Italy with side elements and a carrying strap made of apple leather. Apple leather is an innovative, versatile and high-performance material made from the apple residues during apple juice production. Each piece is available only once. The bags in this series come in different color variations and are numbered with individual labels.
Handcrafted in Italy
Material: crochet cotton yarn, side elements and shoulder strap made from AppleSkin™
Inside: cotton draw string back with Rosenstaub logo print
Adjustable shoulder strap made from AppleSkin™
Magnetic clip closure
Height: 33 cm, width: 37 cm, depth: 11 cm, handle drop: 25 cm
Will be delivered in a high quality matt black gift box with magnetic closure.
Weight: 540 gr. (19 oz.)
Not suitable for machine washing.
Simply wipe with a damp cloth.
Stains can be treated with some soap or a mild shampoo.
All orders are shipped with our affiliate courier DHL. Shipping is free in Germany. To all other European countries shipping is free for orders over 100 €.The delivery time within Germany is 1 to 3 days. The available shipping method as well as the delivery costs and delivery times to international shipping addresses can be seen here.
Within a period of 14 days after delivery all items can be returned. The customer bears the costs for the return. Read more here.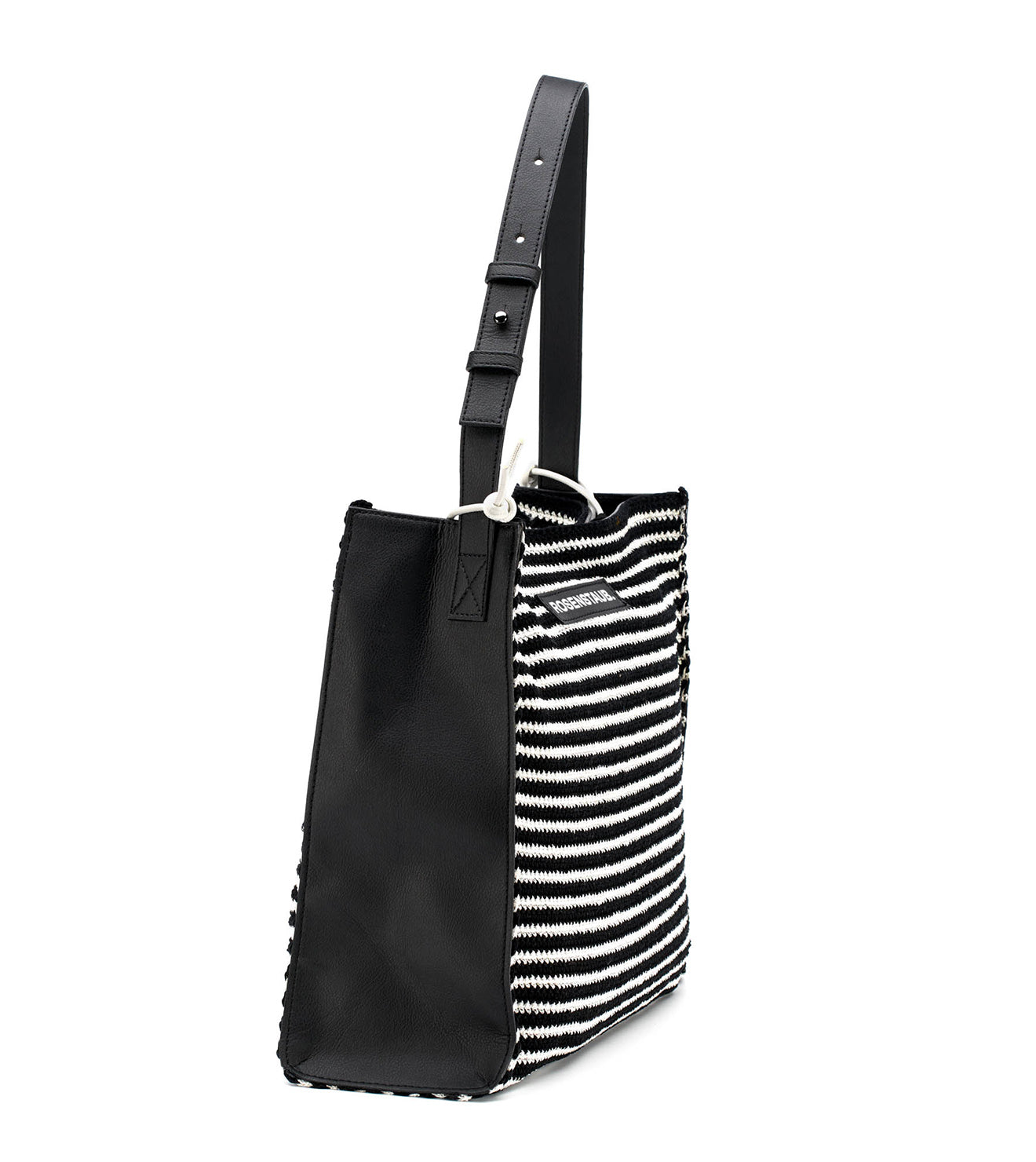 Offbeat Material Combination
So that you can admire the unique handiwork from both sides, we have omitted an inner lining. Instead, inside the crochet shopper is a cotton drawstring bag to store your utensils.
AppleSkin - innovative & sustainable
The peel, core and dried pulp left over from the production of apple juice in the northern Italian region of South Tyrol are biowaste that is processed into apple leather.